Allen Eskens
May 15
The Park Rapids Library hosted author Allen Eskens, one of Minnesota's most popular mystery writers! We were at the event selling his books
---
Children's Book Week
April 29 to May 5

We extend a special welcome to young readers during Children's Book Week. Each child will receive a free Llama Llama coloring book and crayons (while supplies last.)

Used picture books will be on sale for 25% off—a great way to stock up on wonderful books!
---
April was National Poetry Month!
We had our poetry on display and gave away Poems on a Stick by Minnesota poet David Bengston. Deborah Jacob's beautiful poem to her grandson about books was on our poetry display.


---
Independent Bookstore Day
April 27
Bookstores across the country celebrated Independent Bookstore Day on April 27! We encouraged those who couldn't visit Beagle and Wolf to stop by the indies wherever they were.
We had:
Special merchandise produced just for the event
Jess Lourey store signing copies of April Fools, the last book in her Mystery by the Month series (and she left signed copies, too.)
Drawings for fun prizes
A free book with every purchase
Birthday cake! It was the 4th anniversary of combining Sister Wolf Books and Beagle Books & Bindery
Special offers on audio books through libro.fm
And more!
---
Week of the Young Child
April 8 to 12

Each year, Park Rapids Community Ed arranges for business throughout town to host activities for young children and their caregivers during this special week. On April 8, we sponsored a storytime. We featured Giraffe Problems and with an interactive storytime and fun activities to delight our young visitors.
---
Spring Retreat
March 30

Our annual Spring Retreat was held at the Jewel of the Northwoods, the B&B between Hubbard and Menahga, about 15 minutes from Park Rapids. Wel enjoyed a delicious lunch and lively conversation.


Our theme was "Living Outside Ordinary Time." We explored this idea by reading and discussing two very different books. The Immortalists follows the lives of four siblings who visit a fortuneteller and learn the date each of them will die. Orphan Island is a middle grade book about nine children who live on a mysterious island.

And looking ahead, our fall retreat will be October 25 to 27. Theme and books will be announced later in the year.
---

Chili Challenge
March 6
"Doggone Good Chili" was our entry in the annual Chili Challenge, an event sponsored by the Park Rapids Enterprise to benefit the Hubbard County Food Shelf. Each "dollop" of chili was $1. Our chili recipe, renamed to honor Tripod, was vegetarian, since March 6 is Ash Wednesday.
---
Jen, Tripod, and Shadow had a party!
February 23
Did you know February 23rd was International Dog Biscuit Appreciation Day? Jen and Tripod brought the newest canine member of the Geraedts' household, a sheepdog mix named Shadow. Beagle Book's patrons were invited, with or without dogs (on leashes). Our friends from Lickin' Good Whole Pet Foods were on hand too, with treats/prizes. Lickin' Good is one of our favorite downtown businesses—it's where Tripod and Shadow get their grooming done and stock up on treats!
---
Chris Monroe
February 16
Chris Monroe was at Century School in February, and finished her trip to Park Rapids with a visit to Beagle and Wolf.
---

Night In/Morning In

Saturday, January 19 and Sunday, January 20

Night In is our popular, after hours event for book groups and other book lovers. Jen and Sally recommend 20 books, and our publishers partner with us to provide refreshments and prizes. We offered two identical sessions, both in the store, with:
Recommendations of great books!
The company of other booklovers!
Prizes!
Goody bags filled with bookish swag!
Refreshments!
---
Hometown book launch!
January 12, 2019
Karen Babine was in the store to read from and sign copies of her latest book, All the Wild Hungers.
The book is very personal, grounded firmly in Karen's family, and the landscape where she grew up, with many references to the Park Rapids/Nevis area.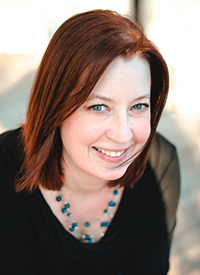 A few years ago, Babine's mother was diagnosed with embryonal rhabdomyosaracoma. This rare form of cancer "only" affects children under the age of ten, and appropriate treatment for a sixty-five year old woman wasn't clear.
At the same time, Babine's sister was pregnant with her third child. Karen  saw patterns all around: parallels between her sister's pregnancy and their mother's illness, connections between food and illness; and between cooking from scratch and making meaning from scratch. While the topic of the book is serious, it also contains humor. The book moves through the seasons of the year, as the family goes from fall to a bleak winter and into a spring of hope.
We were honored to welcome Karen and her new book home!
---

Inventory
We do inventory the first Sunday after the new year. Family, staff, and volunteers combine to get everything counted and have some fun. We provide lunch and give volunteers the staff discount for the day.