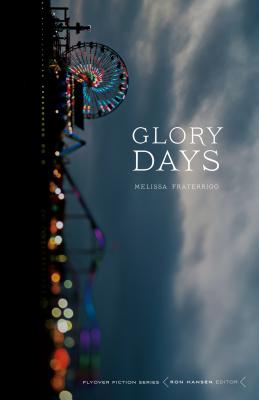 Glory Days
a novel by Melissa Fraterrigo

The small plains town of Ingleside, Nebraska, is populated by down-on-their-luck ranchers and new
money, ghosts and seers, drugs and greed, the haves and the have-nots. Lives ripple through each other to surprising effect, though the connections fluctuate between divisive gulfs and the most intimate closeness. At the center of this novel is the story of Teensy and his daughter, Luann, who face the loss of their land even as they mourn the death of Luann's mother. On the other end of the spectrum, some townspeople find enormous wealth when developers begin buying up acreages. When Glory Days—an amusement park—is erected, past and present collide, the attachment to the land is fully severed, and the invading culture ushers in even darker times.

In Glory Days Fraterrigo combines gritty realism with magical elements to paint an arrestingly stark portrait of the painful transitions of twenty-first-century, small-town America. She interweaves a slate of gripping characters to reveal deeper truths about our times and how the new landscape of one culture can be the ruin of another.
Haunted Heartland
nonfiction by Michael Norman

Astonishing accounts of ghosts, mysterious lights, and haunted houses. For decades, journalist Michael Norman has tracked down spine-tingling stories that arise from apparently authentic accounts in Illinois, Indiana, Iowa, Kansas, Michigan, Minnesota, Missouri, Nebraska, Ohio, and Wisconsin. More than eighty entertaining, eerie tales are collected here.
Never Coming Back
a novel by Alison McGhee

When Clara Winter left her rural Adirondacks town for college, she never looked back. Her mother, Tamar, a loving but fiercely independent woman who raised Clara on her own, all but pushed her out the door, and so Clara built a new life for herself, far from her roots and the world she had always known.

Now more than a decade has passed, and Clara, a successful writer, has been summoned home. Tamar has become increasingly forgetful, and can no longer live on her own. But just as her mother's memory is declining, Clara's questions are building. Why was Tamar so insistent that Clara leave all those years ago? And just what secrets was she hiding?

The surprising answers Clara uncovers are rooted in her mother's love for her, and the sacrifices Tamar made to protect her. And in being released from her past—though now surrounded by friends from it—Clara can finally look forward to the future. Never Coming Back is a brilliant and piercing story of a young woman finding her way in life, determined to know her mother—and by extension herself—before it's too late.
Savage Country
a novel by Robert Olmstead

In September 1873, Elizabeth Coughlin, a widow bankrupted by her husband's folly and death, embarks on a buffalo hunt with her estranged and mysterious brother-in-law, Michael. With no money, no family, no job or security, she hopes to salvage something of her former life and the lives of the hired men and their families who depend on her. Elizabeth and Michael plunge south across the aptly named Deadline demarcating Indian Territory from their home state, Kansas. Nothing could have prepared them for the dangers: rattlesnakes, rabies, wildfire, lightning strikes, blue northers, flash floods, threats to life in so many ways. They're on borrowed time: the Comanche are in winter quarters, and the cruel work of slaughtering the buffalo is unraveling their souls. They must get back alive.

This a gripping narrative of an infamous hunt which drove the buffalo population to near extinction. It is the story of a moment in our history in which mass destruction of an animal population that was seen as the only route to economic solvency. But it's also the intimate story of how that hunt changed Michael and Elizabeth forever.